CondorWorld Medlánky Cup › Results › Day 3 › 02.02.2013
Training Day Day 1 Day 2 Day 3 Day 4 Day 5 Day 6 Day 7 Day 8 Overall Results
Racing Task | Final Results | Maximum Points: 734 | Day Factor = 1.0000
| | | | | | | | | | | |
| --- | --- | --- | --- | --- | --- | --- | --- | --- | --- | --- |
| # | | PILOT | CN | RN | PLANE | DISTANCE | TIME | SPEED | PEN | SCORE |
| 1 | | Helmut Kuenne | F9 | D-2318 | LS4 | 225.82 km | 02:20:05 | 96.7 km/h | 0 | 734 |
| 2 | | Andrzej Czop | CIA | SP-3043 | LS4 | 225.82 km | 02:20:24 | 96.5 km/h | 0 | 732 |
| 3 | | Tim Cerni | TIM | E-TIMI | ASW19 | 225.82 km | 02:26:04 | 92.8 km/h | 0 | 731 |
| 4 | | Martin Kozar | MK1 | OM-2002 | ASW19 | 225.82 km | 02:26:11 | 92.7 km/h | 0 | 730 |
| 5 | | Sandor Laurinyecz | LS | HA-4483 | ASW19 | 225.82 km | 02:27:28 | 91.9 km/h | 0 | 721 |
| 6 | | Uwe Melzer | UWE | FUNFLY | LS4 | 225.82 km | 02:22:20 | 95.2 km/h | 0 | 717 |
| 7 | | Erik Praznovsky | EP | OM-1974 | JantarStd3 | 225.82 km | 02:28:46 | 91.1 km/h | 0 | 711 |
| 8 | | Ukasz Prokop | XC2 | PL-HIGH | LS4 | 225.82 km | 02:24:13 | 93.9 km/h | 1 | 702 |
| 9 | | Pj S | PJS | PH-PJS | LS4 | 225.82 km | 02:25:21 | 93.2 km/h | 0 | 695 |
| 10 | | Bivoj von Mahren | XX1 | OK-ALF | ASW19 | 225.82 km | 02:33:28 | 88.3 km/h | 0 | 679 |
| 11 | | Radek Mica | RUM | OK-5417 | ASW19 | 225.82 km | 02:33:10 | 88.5 km/h | 3 | 678 |
| 12 | | Erwin deBruin | EDB | PH-1999 | LS4 | 225.82 km | 02:28:10 | 91.4 km/h | 0 | 675 |
| 13 | | Jiri Adam | ADX | OK-0024 | ASW19 | 225.82 km | 02:35:11 | 87.3 km/h | 0 | 667 |
| 14 | | Pete Allen | PWA | G-1466 | LS4 | 225.82 km | 02:30:34 | 90 km/h | 0 | 658 |
| 15 | | Rainer Gromzik | RG | D-1908 | ASW19 | 225.82 km | 02:37:57 | 85.8 km/h | 0 | 649 |
| 16 | | David Leonard | ZL | N27ZL | JantarStd3 | 225.83 km | 02:38:22 | 85.6 km/h | 1 | 646 |
| 17 | | Aleksey Chernov | AV7 | AIRMAN | JantarStd3 | 225.82 km | 02:38:24 | 85.5 km/h | 0 | 646 |
| 18 | | Norbert Kiss | CN | HA-1974 | JantarStd3 | 225.82 km | 02:39:20 | 85 km/h | 0 | 641 |
| 19 | | Mime Eric | J51 | ACT40 | LS4 | 225.82 km | 02:33:35 | 88.2 km/h | 1 | 637 |
| 20 | | Alain Zutter | AZZ | F-CGAZ | LS4 | 225.82 km | 02:34:20 | 87.8 km/h | 0 | 634 |
| 21 | | Tomas Brotanek | TB | OK-0516 | ASW19 | 225.82 km | 02:41:08 | 84.1 km/h | 0 | 629 |
| 22 | | Kresimir Hrastovec | KH | 9A-007 | LS4 | 225.82 km | 02:35:23 | 87.2 km/h | 0 | 627 |
| 23 | | Wlodzimierz Kowalski | DB9 | SP-2964 | JantarStd3 | 225.82 km | 02:42:55 | 83.2 km/h | 0 | 619 |
| 24 | | Jiri Nemecek | D32 | OK-6432 | ASW19 | 225.82 km | 02:42:53 | 83.2 km/h | 3 | 616 |
| 25 | | Winfried Deppe | WD | D-2709 | JantarStd3 | 225.82 km | 02:43:42 | 82.8 km/h | 0 | 614 |
| 26 | | Antal Szucs | SIR | SIRALY | JantarStd3 | 225.82 km | 02:47:13 | 81 km/h | 0 | 594 |
| 27 | | Dariusz Banucha | WY | SP-1345 | JantarStd3 | 225.82 km | 02:47:51 | 80.7 km/h | 0 | 590 |
| 28 | | Jon Holland | 123 | G-RUSH | JantarStd3 | 225.82 km | 02:48:53 | 80.2 km/h | 0 | 584 |
| 29 | | Paca84 Laurent | LM1 | PACA84 | LS4 | 225.82 km | 02:42:50 | 83.2 km/h | 0 | 582 |
| 30 | | Lubos Faitz | LFM | OK-4812 | ASW19 | 225.82 km | 02:49:26 | 80 km/h | 2 | 579 |
| 31 | | Leszek Tomasik | LTO | SP-2188 | Libelle | 225.82 km | 02:54:58 | 77.4 km/h | 0 | 579 |
| 32 | | Jaroslav Seidl | OS | OK-ORRY | ASW19 | 225.82 km | 02:50:07 | 79.6 km/h | 1 | 576 |
| 33 | | Szymon Chomicki | SHI | SP-ARCH | JantarStd3 | 225.82 km | 02:50:59 | 79.2 km/h | 0 | 573 |
| 34 | | Horst Ziegler | HD | D-2803 | Libelle | 225.82 km | 02:56:24 | 76.8 km/h | 0 | 572 |
| 35 | | Tim NL | TJB | PH-1204 | ASW15 | 225.82 km | 02:56:26 | 76.8 km/h | 0 | 572 |
| 36 | | Szymon Kolek | ST3 | SP-3224 | JantarStd3 | 225.82 km | 02:52:03 | 78.8 km/h | 1 | 566 |
| 37 | | Antonin Fischer | AFI | OK-1103 | LS4 | 225.82 km | 02:46:34 | 81.3 km/h | 0 | 561 |
| 39 | | Rudolf Kalousek | R1K | OK-7777 | LS4 | 225.82 km | 02:55:37 | 77.2 km/h | 0 | 514 |
| 40 | | Tamas Pentz | PT1 | HA-1961 | LS4 | 225.82 km | 02:55:47 | 77.1 km/h | 0 | 513 |
| 41 | | Russell Trickey | 044 | GDEKS | ASW15 | 213.55 km | | | 0 | 351 |
| 42 | | Tomasz Zwolinski | TZ2 | SP-0028 | JantarStd3 | 216.01 km | | | 0 | 345 |
| 43 | | Jiri Ehrenberger | PJE | OK-6417 | JantarStd3 | 203.01 km | | | 0 | 324 |
| 45 | | Miloslav Fiser | UB | OK-0376 | ASW15 | 102.99 km | | | 0 | 169 |
| 46 | | Hans Nyc | JN | OK-6200 | JantarStd3 | 102.32 km | | | 0 | 163 |
| 47 | | Marian Taros | MAT | OM-1958 | JantarStd3 | 101.44 km | | | 0 | 162 |
| 48 | | Tom Holloran | TWH | N220TH | JantarStd3 | 180.5 km | | | 181 | 107 |
| 50 | | Soenke Neumann | SN | D-0815 | ASW19 | 46.08 km | | | 0 | 74 |
| 51 | | Petr Pilot | P21 | OK-2127 | LS4 | 45.97 km | | | 0 | 71 |
| 38 | | Miomir Ivanovic | MIO | 4O-001 | JantarStd3 | 225.8 km | 02:56:01 | 77 km/h | 0 | 0 |
| 44 | | Frank Paynter | TA1 | N62TW | JantarStd3 | 199.9 km | | | 2 | 0 |
| 49 | | Miodrag Ivanovic | IDM | YU-1039 | JantarStd3 | 53 km | | | 0 | 0 |
| 52 | | Daniel Schneider | NIM | D-KMIN | ASW19 | 221.07 km | | | 0 | 0 |
| 53 | | P Geza | GP9 | HA-PG | JantarStd3 | 122.59 km | | | 0 | 0 |
| 54 | | Martin Semrad | MSE | OK-DAR | LS4 | 102.8 km | | | 0 | 0 |

Download IGC files (all pilots in one ZIP file) | Detailed results (mCR, mIAS, Detour%...)
Briefing › Day 3 › 02.02.2013 › 20:00 CET › Saturday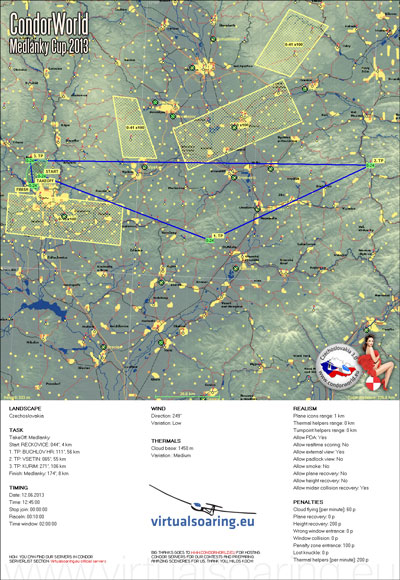 Server:CondorWorld Medlanky Cup
Password:MEDLANKY
Date:02.02.2013
Time:20:00 CET (19:00 UTC)
Join time:30 min.
---
Landscape:Czechoslovakia 3.0
Plane class:Club Class (IGC index used)
Task type:Racing Task
Race-in time:10 min.
Time window:120 min.
Start time:12:45:00
Condor date:12.06.2013
Start altitude:max. 2400 m QNH
---
TakeOff:Medlanky
Start:RECKOVICE
1. TP:BUCHLOV HR
2. TP:VSETIN
3. TP:KURIM
Finish:Medlanky
Distance:225 km
---
Cloudflying not allowed! Circeling in the direction of climb is determined by the first glider in thermal. If you have doubts about the circeling direction, ask in the chat. Please fly safe, good luck to all pilots.
---

Download Flightplan (FPL file)
---
Your comments/evaluation of task